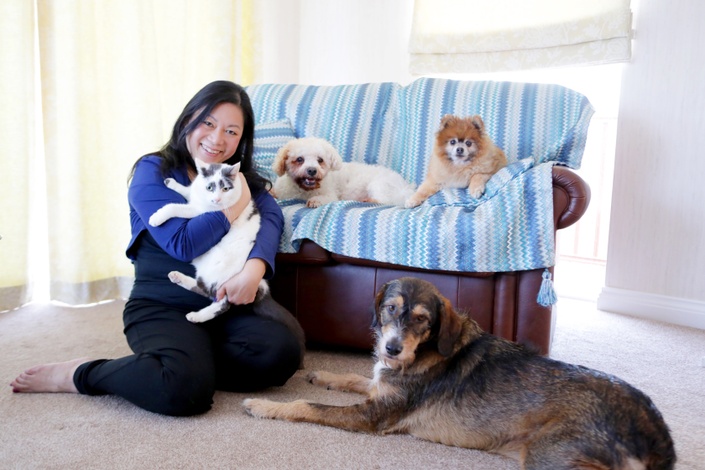 [ENROLMENT NOW CLOSED] Pet Communication Quickstart
For pet parents who want to converse with their beloved cats and dogs and for pets who want their parents to understand what they are trying to say
My down-to-earth "Pet Communication Quickstart" programme"
- a simple to follow, quick to implement, communication process to hone in your understanding for the way your cats and dogs want to communicate with you so that you can easily have two-way conversations
Additional resources to fine-tune your communication channels
- enhancing the learning from the online classes so that you have more opportunity to develop your skills and enjoy the outcome of strong conversations with your pets
Membership in a private Facebook group, exclusively for people in this program.
- where you will receive individual attention so that any struggles you encounter will be quickly turned around as I will be there to "hold your hand" moving you into a place of confidence. I'll be in the private Facebook group cheering you on to keep your motivation high as you become fluent with conversing in the language your cats and dogs use.
Your Instructor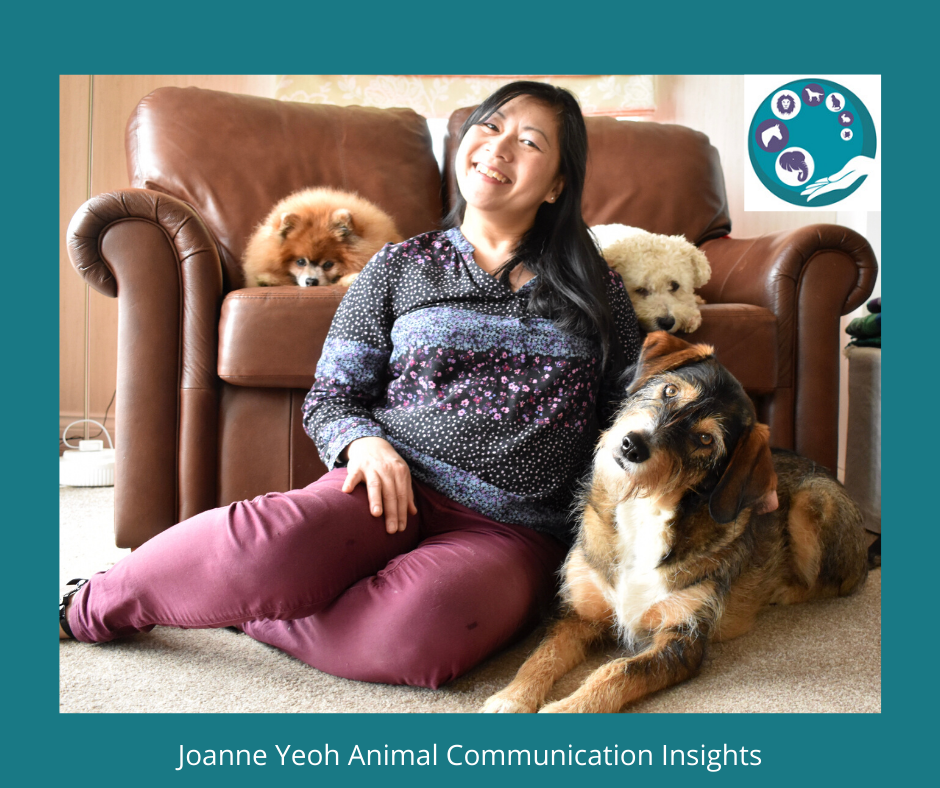 I am Joanne Yeoh and I am a professional animal communicator providing a service to pet parents. I discovered a few years ago that I could sense in detail how an animal feels and thinks and as a result I started exploring and discovering what animal communication meant to me, and the path it was going to take me for helping animals.
Prior to starting up Animal Communication Insights, I was an energy worker specialising in aromatherapy, kinesiology, hypnotherapy, oracle card coaching and medical intuition. And for many years before that I worked in administration and finance.

I now spend almost everyday communicating with animals of which 99% of my work is distance communication, which means I connect with the animals using their photographs. My consultation sessions with the animal's human companion is by video calls to relay the information and to involve both animal and human to connect and work together.
In my consultation sessions I have the privilege of seeing the amazing shifts that both animals and their human companions can experience. Communicating with animals means we can truly understand what they want to tell us! Not just what we think they want to tell us.
And this is where I am passionate about motivating, encouraging and supporting others with their animal communication learning. Specifically if you are someone who doubts your ability yet the spark of interest and desire is alive within you to connect with animals in this way.
How can you move forward from having read books on animal communication, watched tons of videos, even enrolled on workshops and professional courses...or you are curious….and something within you is saying "yes, I would love to communicate with animals and TRUST that the information I receive IS from the animals".
I LOVE sharing my experiences, stories and I have the ability to "breakdown the processes" for understanding how animal communication works. I also encourage others to discover and develop their own communication styles so it eliminates the need for comparisons and judgements, hence removing almost entirely the block that stops you from delving into your natural ability to communicate with animals.
Does this speak to you? If it does, then we will truly enjoy working with one another.
Whether you choose to learn animal communication for personal use or you wish to practice this professionally, I would love to be the one to "hold you hand" especially with the initial steps you take. And to be an ongoing part of your journey as and when you need me.
Course Curriculum
Pet Communication Quickstart program
Available in days
days after you enroll
Module One
Available in days
days after you enroll
Module Two
Available in days
days after you enroll
Frequently Asked Questions
Who is this program suitable for?
For all pet parents who want to learn to communicate with their cats and dogs. Whether you are a beginner or have previous experience in animal communication, this program will focus on you working with your own pets.
How much time should I set aside for practice?
This program is self-paced so you choose when to practice. The important thing is to have fun whilst learning and not to put pressure on yourself.
What support will I get?
You will have membership to a private Facebook group for questions you may have when working through the program.
Can I join this program if I don't have a pet right now?
You can work with a pet of a family member or friend with whom you share a close relationship with and have permission from the pet's parent.
Is this program for cats and dogs only?
The reference made to cats and dogs is due to their popularity as pets. This program is suitable for learning to communicating with all species of pets.
This course is closed for enrollment.