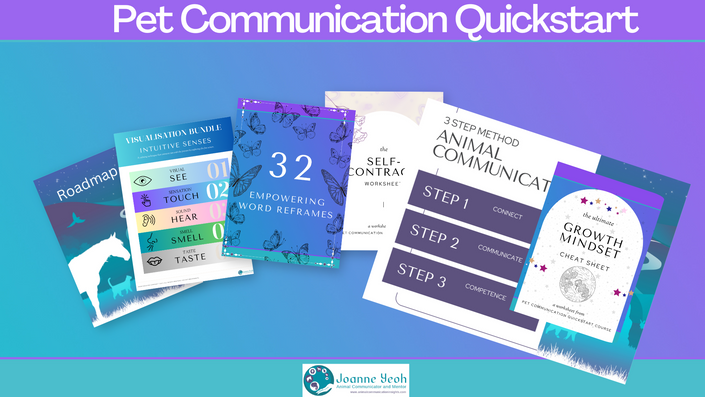 Pet Communication Quickstart Course
3 step method for mastering communication with your pets
Enroll in Course
Do you crave a deeper connection with your pet?
Curious about what your pet would say if they could talk?
Unlock the unsaid with the Pet Communication Quickstart course!
The teaching elements in this fascinating course will take you through the foundations of communicating with your pets. It will require you to be open to your experiences and trust in yourself so you can unlock….
the natural abilities within you to communicate with your beloved cats and dogs
the confidence to banish the guesswork of trying to interpret what they are saying to you
the self-assurance to stop asking everybody else what's wrong and master the art of communication with your pet. They will tell you directly what they feel and what's going on
the open mindedness to explore any type of conversation with your pets, so you can find the topics which inspire them to communicate with you
the magic of easy everyday conversations with your cats and dogs as your confidence increases
Immediate Lifetime Access
You've already got an incredible connection, but what if your lines of communication were opened?
A 3-Step Method for Mastering Communication with your Pets
LIFETIME ACCESS COURSE CONTENT
STEP ONE: CONNECT
Establish a connection with your own pets so that real conversations can happen daily
Uncover strategies for boosting your connection so you can easily communicate with one another, wherever you are
Recognise the signs that your pets are not wishing to engage in communication at the moment, so you don't lose hope with futile communication efforts
STEP TWO: CONVERSE
Discover how your pets communicate so you can experience how they think and feel while recognising their preferred communication style
Explore ways of creating the ultimate setting for your pets to feel relaxed enough to allow conversations to flow easily
Discover how to communicate together, without words, allowing you to break through the 'language barriers' and hear the truth of their message for you
STEP THREE: COMPETENCE
Experiment with the spectrum of topics you raise, so you recognise your pets communications and find subjects they want to discuss with you
Resolve behavioural challenges by knowing how to harmoniously approach the conversation so you receive clear communications that help resolve problems
Reveal how to converse on care plan arrangements so when it comes to making health decisions for your pets, they appreciate the vital role you play in advocating for them
BONUS #1: "Imagination Activation" Workbook

Fun and simple exercises for you to activate your imagination so that you can easily access your intuitive senses which allows for a flow when communicating with your pets animals
BONUS #2: Visualisation Bundle to turbocharge your intuitive senses
Powerful visualisations for you to practice in your own time so that you develop the ability to switch on and off your communication channels as and when appropriate
BONUS #3: "Joanne Yeoh's Best Tips" Guidebook
My favourite and proven down-to-earth top tips for communicating with your pets so that you can experience success quickly and build your confidence
SUPER BONUS: Motivation and Confidence Bumper Tutorials
Kickstart your motivation and boost your confidence with these handy reminder tutorials so that you keep up the momentum and gain competency practising with your pet
Open yourself up to a world of possibility
Let your curiosity lead you to cultivate an undeniable connection
Your Instructor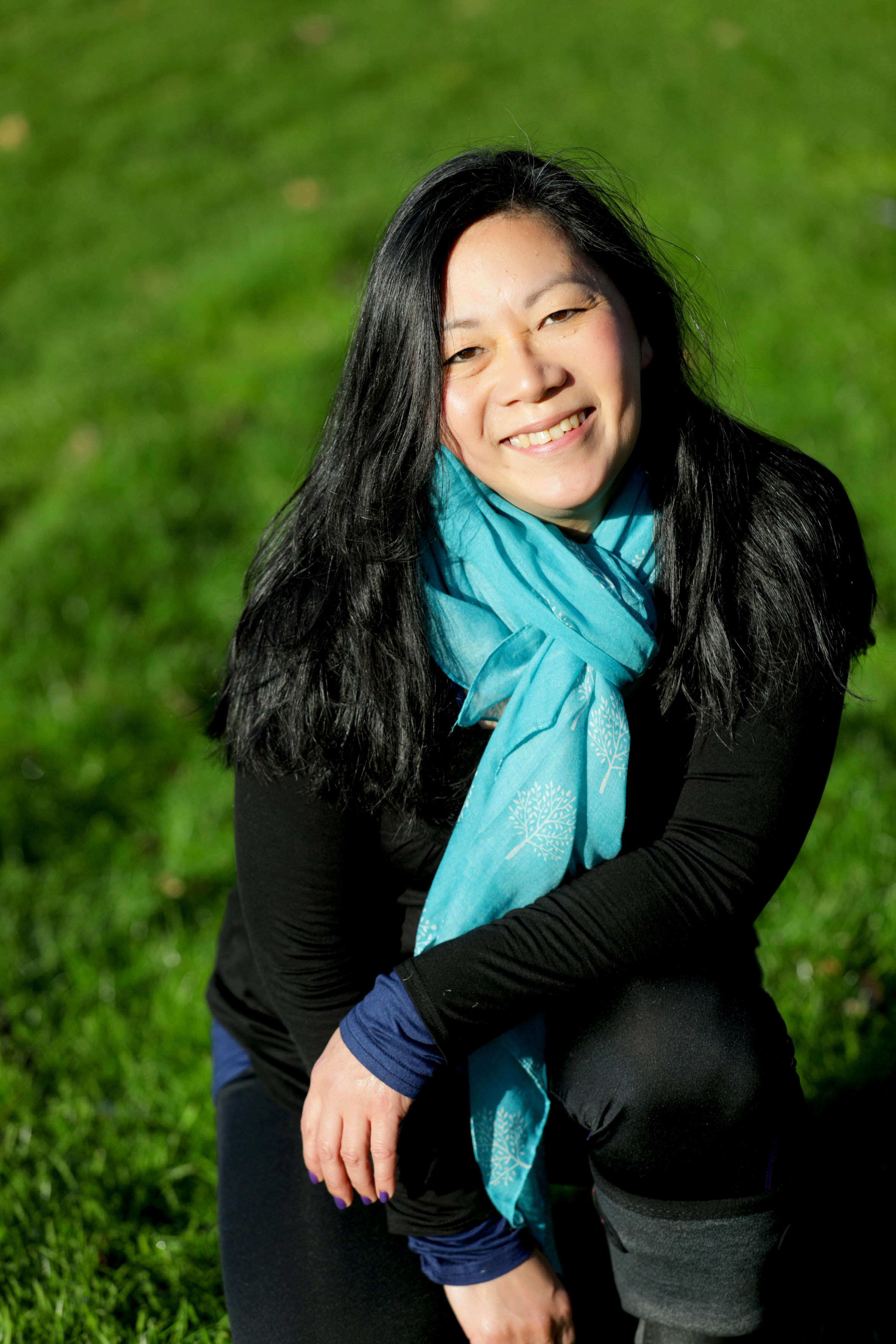 Founder of Animal Communication Insights, Joanne is an animal (interspecies) communicator and mentor.
Joanne's business is twofold. Firstly, she supports pet parents who want to understand how their pets are feeling and what they need (no more second guessing!), so a positive resolution can be achieved with ease for everyone in the family. Joanne also mentors professional animal communicators who want to create a successful business doing what they love.
Joanne is available for consultations, teaching and guest speaking.
Course Curriculum
WELCOME
Available in days
days after you enroll
DOWNLOAD YOUR WORKBOOK
Available in days
days after you enroll
MODULE 1 - Your Journey
Available in days
days after you enroll
Frequently Asked Questions
What if I don't have a pet right now (I have pets in the past , and plan to have a pet in the future)?
You can work with a pet of a family member or friend with whom you share a close relationship with and have permission from the pet's parent.
Who is this course suitable for?
For all pet parents who want to learn to communicate with their animal companions and enjoy learning at their own pace. Whether you are a beginner or have previous experience in animal communication, this course will focus on you working with your own pets.
How much time should I set aside for practice?
This course is self-paced so you choose when to practice. The course is designed to allow you to practice even you're going through a busy period of your life.
What support will I get?
There is access to a private Facebook group for continued help.  If you don't have a Facebook account, there is the option to share comments in the curriculum of the course where questions will be answered by myself or a team member.
How long will I have access to this course?
You will have lifetime access to the course as well as content shared in the private Facebook group as long as there is not a break in your membership.
What if I change my mind?
You can reach out for support by email to
[email protected]
if you are struggling with any aspects of the course. I'm so confident that Pet Communication Quickstart Course will get you results, I'll happily give you your money back within 14 days of purchasing if you're not happy with the value I've provided here.
Disclaimer: I have used care in preparing the information provided to you, but this Course and my Course materials are being provided as self-help tools for your own use and for informational and educational purposes only. There are many factors that influence results, so no guarantees can be made as to the results you will experience through this Course. By signing up to access the course you agree that I am not responsible for your physical, mental, emotional and spiritual health, for your financial earnings or losses, or for any other result or outcome that you may experience through this Course. Nothing related to this Course is intended to be considered medical, mental health, legal, financial, or religious advice in any way. For specific questions related to a medical or mental health situation, consult your own medical or mental health professional. For specific questions related to your financial, legal or tax situation, consult your own attorney, accountant, and/or financial advisor. For specific questions related to religion, spirituality, or faith, consult your own clergy member or spiritual healer. Do not start or stop taking any medications because of anything you have read or received through this Course. Any recommendation of any specific programmes, products or actions are simply offered for educational purposes, and you need to check with your own medical professional before using any of these programmes, products or taking any actions that may affect your body or your health in any way.
Limitation of Liability, Indemnification, and Release of Claims: I will not be held responsible in any way for the information that you request or receive through this Course, including my services, products, and Course materials and any other information you have received from or through me related to this Course to the fullest extent permitted by law. You agree that you fully and completely hold harmless, indemnify and release me from any and all liability, damages, causes of action, allegations, suits, sums of money, claims and demands whatsoever, in law or equity, that you ever had, now have or may have against me in the future that may arise from your participation in the Course, including all services, products, and Programme materials, to the extent permitted by applicable law. You agree to hold me free of all liability and responsibility for any actions or results for adverse situations created as a direct or indirect result of specific information or recommendations that you receive through this Course.
Refund Policy: It is my intention for you to be happy with your Course. However, because I have invested considerable time and effort in your Course, if you decide to withdraw at any time for any reason, you are still fully responsible for making all Course payments, and no refunds will be provided.