[NO LONGER AVAILABLE] Animal Communication Confidence*Booster
Resources and practical tips for improving your confidence and ability to easily exchange communications with all pet animals
Watch Promo
"Animals need more animal communicators in the world!"
What if the world was filled with people who spoke to animals, every single day?
I hear the animals tell me that we need more animal communicators in this world. I would LOVE for animal communication to be a part of everyday life, for everyone. To make that happen, I have one wish for the world.
That one wish would be that you ALL have an experienced and professional animal communicator to help you, guide you, and support you along your journey. To alleviate your fears of inaccurate communications, to know that what you are receiving is from the ANIMAL not from you, and teach you exactly HOW to connect with animals easily and effectively.
Do you naturally have this gift but second guess yourself about it? You've probably already explored animal communication and feel naturally pulled to help more animals and the people who love them. Perhaps there's feelings of frustration that you're not actively "doing" it more.
Whether you are:
Interested in learning animal communication
Completely new to it
Taking a break from communicating but want to come back to it
Already practising it and want to become better at it
Become an ACCURATE animal communicator, for just £18.00 a month.
With this Confidence Booster membership, you will get:
EXCLUSIVE access to a growing library of articles, tips, videos, answers, and how-to guides
Each month will be filled with guided practice, lots of feedback, encouragement and support
An online community to share your wins and challenges with other learners, and have a safe space to ask for support when you need it
Live video calls, recordings and special events
Strategies, exercises and activities to build your confidence and get accurate communications
For just £18.00 a month, you will never doubt your readings again.
How it works:
Module One: The three-part recipe for success. And the ONE thing you need to know to transform your communications from doubt-ridden and draining, to fulfilling, fun and accurate.
Module Two: Developing your intuitive senses. How to easily and successfully see, smell, hear, taste and feel what the animals have to say. Even if you THINK you can't use them all, in this module I will show you how to open up the channels to ALL of your intuitive senses.
Module Three: Got blocks? Let's stamp them out. Everyone faces intuitive doubts and fears around the authenticity of their communications. I answer your real-life questions and give practical support to get you through the biggest issues holding you back.
Module Four: The Practice Den. Let's get started! Here you will use my Practice Den to start conversations with animals, all waiting to talk to you. Share your conversations, break-throughs and struggles as we gently set off on our journey to communicating with animals.
Module Five and Six: Diving deeper. Now you've given it a try, your experiences will have raised more questions that need answering. What if you don't understand what the animal is trying to tell you? How to communicate with an animal quickly in an emergency? How can you connect with an animal if you cannot see their face and eyes? What is the best verification method for the animal's person to know it is definitely their animal you are talking to? How to be confident in your communication...And so much more!
Module Seven: Becoming a Pro. This section is all about becoming a professional animal communicator and the particular struggles this decision presents. If you feel animal communication is your life's calling and you are looking for the confidence to take that step, this is definitely for you. Including how to decide if it's for you, how to set a fee, how to tell people you are an animal communicator, and much more.
Module Eight: Journal prompts. Journal your biggest fears, breakthroughs, challenges and achievements, and share them with me in confidence.
Join now! Become a member of our supportive community today.
Your Instructor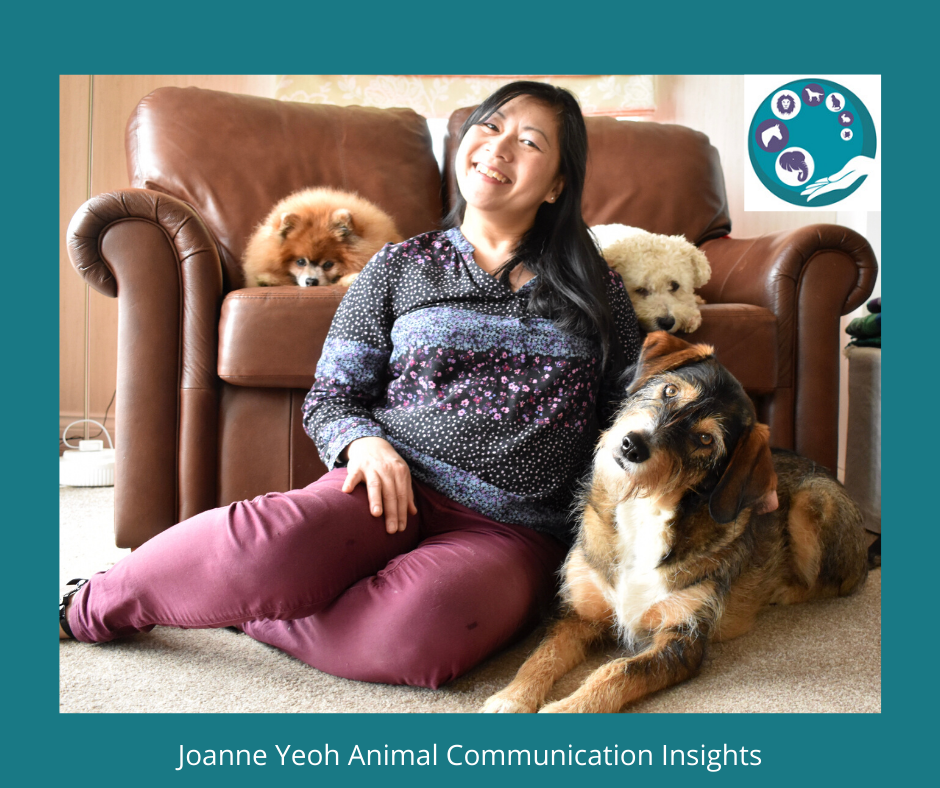 I am Joanne Yeoh and I am a professional animal communicator providing a service to pet parents. I discovered a few years ago that I could sense in detail how an animal feels and thinks and as a result I started exploring and discovering what animal communication meant to me, and the path it was going to take me for helping animals.
Prior to starting up Animal Communication Insights, I was an energy worker specialising in aromatherapy, kinesiology, hypnotherapy, oracle card coaching and medical intuition. And for many years before that I worked in administration and finance.

I now spend almost everyday communicating with animals of which 99% of my work is distance communication, which means I connect with the animals using their photographs. My consultation sessions with the animal's human companion is by video calls to relay the information and to involve both animal and human to connect and work together.
In my consultation sessions I have the privilege of seeing the amazing shifts that both animals and their human companions can experience. Communicating with animals means we can truly understand what they want to tell us! Not just what we think they want to tell us.
And this is where I am passionate about motivating, encouraging and supporting others with their animal communication learning. Specifically if you are someone who doubts your ability yet the spark of interest and desire is alive within you to connect with animals in this way.
How can you move forward from having read books on animal communication, watched tons of videos, even enrolled on workshops and professional courses...or you are curious….and something within you is saying "yes, I would love to communicate with animals and TRUST that the information I receive IS from the animals".
I LOVE sharing my experiences, stories and I have the ability to "breakdown the processes" for understanding how animal communication works. I also encourage others to discover and develop their own communication styles so it eliminates the need for comparisons and judgements, hence removing almost entirely the block that stops you from delving into your natural ability to communicate with animals.
Does this speak to you? If it does, then we will truly enjoy working with one another.
Whether you choose to learn animal communication for personal use or you wish to practice this professionally, I would love to be the one to "hold you hand" especially with the initial steps you take. And to be an ongoing part of your journey as and when you need me.
Course Curriculum
Introduction
Available in days
days after you enroll
Module One
Available in days
days after you enroll
Frequently Asked Questions
What if I have only just started?
I meet everyone, at whichever place they are, from beginner to experienced, and develop strategies, exercises and activities to build their confidence, which does more to support their own personal path and style than anything else can.
How much time will I need to invest?
As much or as little as you want! The modules are there for you to access whenever you need them. I would recommend putting aside a few days to digest all the course material, and as much time to practice as you feel is right for you. It is a completely self-paced online course - you decide when you start and when you finish. Membership is automatically renewed monthly and you can choose to cancel it anytime, and rejoin again too!
What if I change my mind?
If you change your mind you can cancel at anytime and rejoin at any time too. It's your time! Sign up today for only £18 a month
Who is this membership for?
This membership is for you if you enjoy learning: From example i.e. real life experiences In your own time with no pressure From curiosity; it's your very first encounter of this subject To develop and progress from what you've already studied but lack the practical confidence to take it further From other professional animal communicators; the "good and the ugly". Whether: You are helping people professionally A friend needs you to help them Your own animals need you There is so much we can do to continue to learn and develop our ability to make animal communication a part of everyday life.
Will I get access to future updates?
Yes. This membership learning will be regularly updated and additional content will be added.